Contacting your child's tutor or teacher
At The Henry Beaufort School we want to work with parents in the education of their children. Therefore, your first contact should be with the student's Vertical Tutor. Please find a list of contact email addresses below.
For teaching staff who are not tutors, please scrol to the bottom of the page.
Athens
ABAR - Miss Bartlam stephanie.bartlam@staff.beaufort.hants.sch.uk
ABEA - Miss Bean rachel.bean@staff.beaufort.hants.sch.uk
ASED - Mrs Seddon (Tues-Fri) alison.seddon@staff.beaufort.hants.sch.uk Mr Mordecai (Mon) richard.mordecai@staff.beaufort.hants.sch.uk
ASAU - Mrs Saunders (Mon/Tues/Fri) - julie.saunders@staff.beaufort.hants.sch.uk Mrs Wybraniec (Wed/Thu - WkA Wed WkB Thurs) - sarah.wybraniec@staff.beaufort.hants.sch.uk
AEAS - Miss East (Mon-Thurs) chloe.east@staff.beaufort.hants.sch.uk Mrs Wybraniec (Fri) sarah.wybraniec@staff.beaufort.hants.sch.uk
Berlin
BHPH - Mrs Humphrys (Mon/Tues/Thurs/Fri) sue.humphrys@staff.beaufort.hants.sch.uk Mr Burgess (Wed) robert.burgess@staff.beaufort.hants.sch.uk
BWES - Miss West felicity.west@staff.beaufort.hants.sch.uk - Mr Tucker in Miss West's absence jonathan.tucker@staff.beaufort.hants.sch.uk
BJAC - Mrs Watson (Mon/Tues/Thur/Fri) joanna.watson@staff.beaufort.hants.sch.uk, Mrs Johnstone (Wed) alex.johnstone@staff.beaufort.hants.sch.uk
OCA - Mr O'Callaghan lee.o'callaghan@staff.beaufort.hants.sch.uk
BTUC - Mr Tucker jonathan.tucker@staff.beaufort.hants.sch.uk
Luxembourg
LMCM - Mrs McMillan marie.mcmillan@staff.beaufort.hants.sch.uk
LHAL - Mrs Rimmer (Tues-Thurs) fiona.rimmer@staff.beaufort.hants.sch.uk Mr Naisbitt (Mon/Fri) charlie.naisbitt@staff.beaufort.hants.sch.uk
LLEG - Mr Leggatt paul.leggatt@staff.beaufort.hants.sch.uk
LJMN - Mrs Jackaman laurence.jackaman@staff.beaufort.hants.sch.uk
LWLN - Miss Wilson natalie.wilson@staff.beaufort.hants.sch.uk
Moscow
MSAN - Mr Sandercott jack.sandercott@staff.beaufort.hants.sch.uk
MMCB - Mr McBride ben.mcbride@staff.beaufort.hants.sch.uk
MHOA - Miss Hoadley clare.hoadley@staff.beaufort.hants.sch.uk
MCRE - Mr Creed david.creed@staff.beaufort.hants.sch.uk
MEIL - Mr Eilon joshua.eilon@staff.beaufort.hants.sch.uk
Prague
PBAL - Miss Balcombe laura.balcombe@staff.beaufort.hants.sch.uk
PGIS - Miss Gist (Mon) verity.gist@staff.beaufort.hants.sch.uk Miss Colebourn (Tues-Fri) emma.colebourn@staff.beaufort.hants.sch.uk
PWLK - Miss Walker emma.walker@staff.beaufort.hants.sch.uk
PEVA - Mr Evans oliver.evans@staff.beaufort.hants.sch.uk
PBRI - Mrs Brisbane (Mon, Tues & Fri) clare.brisbane@staff.beaufort.hants.sch.uk Miss Elsdon (Weds & Thurs) charlotte.elsdon@staff.beaufort.hants.sch.uk
PDEN - Mr Denham daniel.denham@staff.beaufort.hants.sch.uk
Rome
RROE - Mr Roemer martin.roemer@staff.beaufort.hants.sch.uk
RWLM - Mr Williams gareth.williams@staff.beaufort.hants.sch.uk
RHIL - Mrs Hill anne.hill@staff.beaufort.hants.sch.uk
RGOU - Miss Gould emma.gould@staff.beaufort.hants.sch.uk
RDRA - Mrs Drake carol.drake@staff.beaufort.hants.sch.uk
Warsaw
WBID - Miss Bidwell alex.bidwell@staff.beaufort.hants.sch.uk
WWEB - Mr Webber stephen.webber@staff.beaufort.hants.sch.uk
WBAK - Miss Baker vicky.baker@staff.beaufort.hants.sch.uk
WATK - Mrs Atkins sonia.atkins@staff.beaufort.hants.sch.uk
WMUR - Ms Murphy irene.murphy@staff.beaufort.hants.sch.uk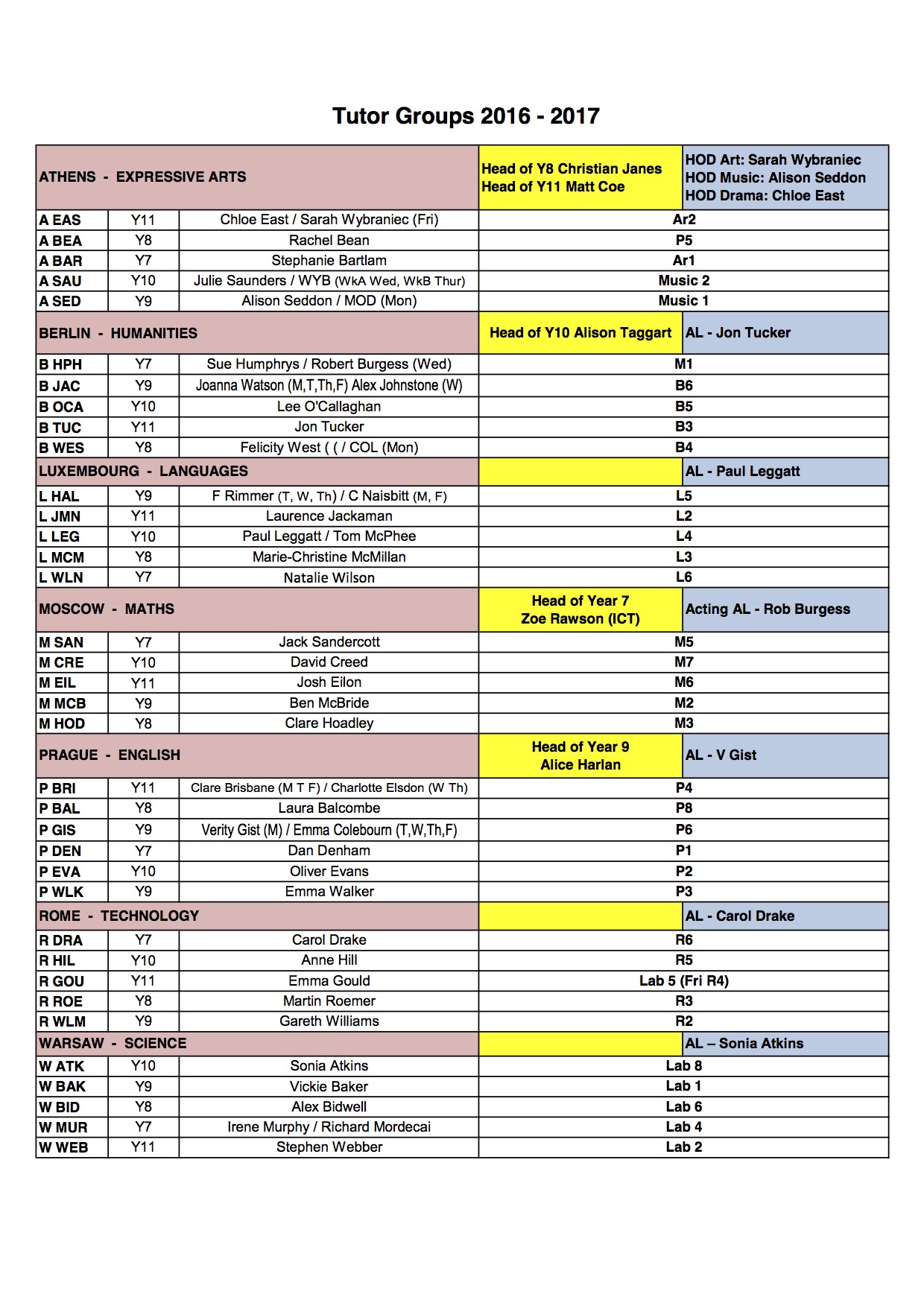 Non-tutor teaching staff
Mr Burgess, Acting Academic Leader: Maths robert.burgess@staff.beaufort.hants.sch.uk
Mr Coe, Head of Year 11 matthew.coe@staff.beaufort.hants.sch.uk
Ms. Coley, Teacher of Drama miriam.coley@staff.beaufort.hants.sch.uk
Mrs Godlement, Learning Coordinator rachael.godlement@staff.beaufort.hants.sch.uk
Mrs Hallett, Teacher of MFL (maternity leave) yin.hallett@staff.beaufort.hants.sch.uk
Mr Janes, Head of Year 8 christian.janes@staff.beaufort.hants.sch.uk
Mrs McArthur, Teacher of Humanities/Skills Base meryl.mcarthur@staff.beaufort.hants.sch.uk
Mr Mordecai, Teacher of Science richard.mordecai@staff.beaufort.hants.sch.uk
Miss Rawson, Head of Year 7 zoe.rawson@staff.beaufort.hants.sch.uk
Mrs Redican, Teacher of Transition/Skills Base siobhan.redican@staff.beaufort.hants.sch.uk
Mrs Strevens, Teacher of the Deaf alison.strevens@staff.beaufort.hants.sch.uk
Mrs Taggart, Head of Year 10 alison.taggart@staff.beaufort.hants.sch.uk
Miss Townsend, Academic Leader: Maths (maternity leave) danielle.townsend@staff.beaufort.hants.sch.uk