Hello from Henry B! Edition 8 2021 ​​​​​​​
3rd March 2021
Dear Parents and Students,

You should by now have received the communication from school regarding return to on site learning. We are really looking forward to the return of all of our students to on site learning, despite the continuing restrictions that we will need to follow. The students who have been on site throughout the lockdown are to be congratulated for the way in which they have approached being in school, in full uniform for these 8 weeks. I am sure they will also be pleased to see all of their friends although perhaps not so much the return to a longer queue for the Bistro!
They are of course well used to the routine of preparing for the school day and setting the alarm clock. It may be a bit more difficult for those of you who have not been in for the last 8 weeks. It is unlike the last time we were in this position, when you came back at the start of a term, which meant you had time to prepare for the fresh start of a new year. I would strongly recommend that you do some preparation now. Check the alarm clock works and maybe test it out on Thursday and Friday morning. Check your uniform and school bag and have everything ready by the weekend so that Monday is not a scramble to get yourself ready and out of the door! Remember those water bottles too!
In the next few days we will be sending out welcome letters to the families who will be joining us in September 2021 as part of our new Year 7 intake. The Henry Beaufort School was a very popular choice again this year and we have a waiting list for places.
I have seen some wonderful photos of hobbies that you have taken up over the last 9 weeks and Mr Jane's is busy putting together a montage of these photos to share on the screen in reception. It is not too late to send in a photo!
A message from Mrs Chalke
Here is a reminder that on Sunday March 14th (3.14) it is International Pi Day. Each year the Moscow department celebrate by having fun, in-class activities involving Pi as well as holding a cake baking competition.
This year we have had to slightly modify what we are doing. Instead of a student cake baking competition where they bring their cakes into school, we will be holding a 'Virtual Pi Cake Baking Competition' where they submit their photos via email. The deadline for entry is by Friday 12th March. You can send photos of your entry to: Samantha.chalke@staff.beaufort.hants.sch.uk
Please find attached all details.
A message from Miss Bean
I am really pleased to announce that we have sponsored a commemorative plaque in remembrance of Private John Bennett of the Hampshire Regiment. Like many soldiers John Bennett suffered from shell shock, but as it wasn't a recognised illness he was one of 306 British soldiers shot at dawn for cowardice. Whilst on the WW1 Battlefields trip students learn about John Bennett and are read extracts from his trial as we visit the cells in Poperinge where he spent his last night.
He was officially pardoned by the Queen in 2006 and we have chosen to commemorate him by sponsoring a plaque at the Lochnagar Crater, which students visit on the WW1 Battlefields trip.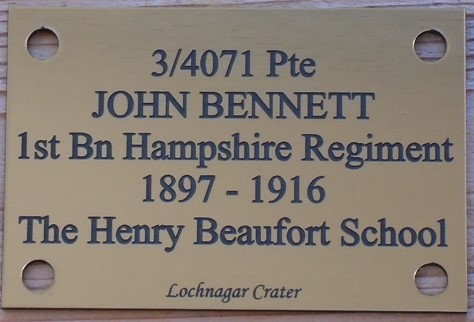 3/4071 Pte
JOHN BENNETT
1st Bn Hampshire Regiment
1897 – 1916
The Henry Beaufort School
Lochnagar Crater
Message from Mrs Ireland
World Book Day – Thursday 4th March 2021
As you know we are sadly unable to celebrate World Book Day in school this year but we aren't going to let that stop us. From Thursday there will be a variety of competitions and activities that all students will be able to access and complete, including 'Guess the Quote' and 'Redesign a Book Cover'. All competitions will be open until Friday 12th March and there will be prizes up for grabs for the winners. I will also post links to some brilliant workshops, videos and activities that are on offer online so that everyone can enjoy World Book Day at home. I will be sending an email to all students with all the details on how to access all of our World Book Day resources so keep an eye on your inbox! This year the World Book Day £1 token will also be digital, each student will be sent this by email along with information on how to redeem the tokens. Happy reading everyone – I look forward to welcoming you back to our library very soon!
Our final lockdown recipe sees us preparing for Easter with Easter crispy cakes. Thank you Mrs Golding.
I hope that you have found these newsletters useful. We will send out one more before the end of term and then we are going to trial a short newsletter every two to three weeks in the summer term so that we can send out information that is up to date and relevant. We feel that this would be a good way to stay in touch with you all. We will be asking you for feedback on this initiative later in the summer term.
As my last newsletter during lockdown learning (and I really hope it is the last in a lockdown) I want to take this opportunity to thank you for all the kind thoughts and messages of support you have sent into us over the last couple of months.
You have all been amazing.
Thank you to our young people for the commitment you have made to your studies and to parents for supporting us with their learning at home.
Enjoy the peace and quiet at home on Monday. We strangely, are looking forward to breaking the silence!!
With my best wishes to you and your families,
Miss Hearle
Headteacher