Hello from Henry B! Edition 3 Autumn Term 2021
15th December 2021
Dear Parents and Students,
Despite the turbulence of the last two weeks we have been able to share with you a wide range of activities, sporting events and extra-curricular opportunities that have taken place this term both through the newsletter and on our website page.
I have included in this newsletter some of the more recent events that our young people have taken part in.
Thank you to all of you who were able to donate for our food bank collection last Friday as part of our festive themed non-uniform day. It was lovely to see so many festive outfits in school. I am sorry that we didn't quite make it to our Christmas performance. Thank you to all of our students who were planning and rehearsing for this event.
Thank you too to Hillier's in Winchester for donating the lovely Christmas tree in reception. It has kept us all going the last few weeks!
Thank you too to all of our students who were required to have a PCR test at school. The Mobile Unit team were very complimentary about your exemplary behaviour. We were described as one of the best schools they have been to in terms of our students and the organisation of the two-day visit.
On occasions such as this the information we send outcomes directly from the UK Health Security Agency and I am aware that some of it has been contradictory; frustrating for you as well as for us.
We hope to be able to return to school as normal on the 4th of January 2022.
A new year is always an opportunity for a fresh start and one in which we will be focusing on smart, appropriate uniform and a focus on punctuality! This will be shared with students in Whole School Assembly on Friday and with you through a school communication.
Consistent standards and expectations will be the focus for the new term. If there are reasons why you would not be able to purchase uniform please contact your child's tutor in the first instance.
I have been delighted to see 52 students over the course of this term to award a Headteacher Special recognition award, including 3 gold awards. Well done to everyone who received this award and I look forward to handing out many more next term.
We have some exciting news in team English, Miss Brown's first novel (which she wrote whilst she was undertaking her teacher training and studying for her Master's degree!) has won an award:
'H Brown has won the 2021 Little, Brown UEA Crime Fiction Award for her historical suspense novel My Name Is Emma.
Each year editors at Sphere choose the best novel by a graduating student.
My Name Is Emma follows the arrival of the eponymous servant into the home of widowed mother Mrs Jackson, building up to a terrible crime based on a true story.
Chair of judges, Sphere publishing director Ed Wood, said: "My Name is Emma is a wholly coherent first step into the world of historical mystery writing, a tale that slowly reveals its secrets as it moves towards a genuinely shocking conclusion. H Brown has a confident, effortless voice that gripped us from the first page'.
How proud are we to have a published author in our team!
COP26
I am a part of an Eco choir that were invited to perform in the green zone at COP26 and some of us were even invited to the blue zone (area for significant people) which was such an honour and an unbelievable opportunity.
What was it like being at COP26?
I loved every second of it! There was so much to do and so much to explore. I wasn't worried about performing because everybody at the conference cared about the same thing: Climate change.
What is the message COP26 is trying to bring across?
COP26 is trying to tell people that its not to late yet, if we start right now and work together we can do it. The outcome of the conference or parties wasn't what we hoped for but I'm still optimistic!
If you could say one thing to get people to do something about climate change, what would it be?
Personally I would say, listen to the science, it's not lying and if you want to turn this around, I would pay attention to the scientists.
Cullayn Year 8
Eco News
The second batch of over 400 trees has arrived from The Woodland Trust and are heeled in ready for planting.
I was delighted to be invited to The Environment Club last week to watch a presentation on the ideas and projects that the members of the club would like to undertake at HB.
I was very impressed with the professionalism of the presentation and the thoughtful and thought-provoking ideas that were presented.
I will be taking forward these ideas to colleagues in school and the Governing Body. Many of these ideas were both practical and possible with a little logistical planning and some consultation work with the whole school community.
The Brilliant Club
The Scholars' Programme is in full swing now with weekly seminars taking place for twelve ambitious Year 8 students. In the seminars, which are led by English Literature PhD tutor, Dr Lian, we have been discussing how literary texts can be viewed through different lenses, ranging from ecocriticism, to feminism, to post-colonialism. We have discussed texts ranging from Noughts and Crosses to Robinson Crusoe. It has been amazing to see these students explore ideas beyond the curriculum and come up with fascinating new perspectives. They have really risen to the challenge and done our school proud. Next up: a final, 1,500 word, university-level assignment. We hope to visit a University campus in the Spring term to see what University life is like, and graduate from the programme in a well-deserved celebration event.
Well done and good luck for this year's programme to: Jenna, Alfie, Nikisha, Joseph, Kyrese, Matthew, Emily, Bernard, Julia, Thomas, Evie-Rose and Douglas.
Mrs Naylor- Teece
Partnership working with Southampton Football Club
We were fortunate enough to have two under 18 players from Southampton football club attend a Teams meeting with a number of our students who play for our school football teams. We had arranged for them to come into school for a Q and A session, but sadly due to COVID this could not happen. The students were able to discuss issues surrounding race, discrimination, mental health and respect with the players, who in turn explained the importance of learning and studying hard to enable them to have more choices if their careers took a different path. The players also talked about the importance of learning to be respectful in life and how to deal with life's pitfalls and how you overcome them.
Mrs Lewis
It's Panto Season!
Year 9 GCSE Drama students returned to school in September to begin their new 3 year GCSE Drama journey together. Their first project – Pantomime! Year 9 Drama students were challenged with creating a brand new pantomime style story aimed for a target audience of primary school aged children. Characters, storylines, audience interaction, riddles and rhymes were created and scripted from scratch by the students. This Year 9 class devised a pantomime called 'Friendship Reigns'. The story explores the stock pantomime characters, but the moral focuses very much on how we increasingly must value each for what we bring to the world rather than the place we are born into. The best and most trusted friend is eventually crowned as the one who should lead the community.
Until only a week or so ago performances were set to go ahead in the Drama studio for our primary visitors. Pandemic restrictions meant that these performances could no longer happen live and so to ensure we could continue, we took the decision to move the performances via Microsoft Teams. Our primary schools have helped us make this adjustments with such positivity and encouragement. The students have been superb, not only in their ability to adjust performance aspects to work online, but also in the face of the pandemic challenges and restrictions, and have made every effort to be their very best, including standing in last minute for students who faced unavoidable absence.
The Year 9 Drama students are brave, creative and in the face of adversity have been quite frankly - invincible! Well done Year 9!
Mrs Miles
Year 7 Letter Exchange with France
This year, we have partnered up again with France to exchange cards, letters and selfie sheets! Year Seven have been writing to two sixième (6eme) classes at Collège Pierre Mendes, near Angoulême, France. Their website is http://etab.ac-poitiers.fr/coll-mendes-france-soyaux/
Christmas cards are not a huge tradition in France, but cards (Les cartes de voeux) are more commonly exchanged in January. Therefore, our friends in France have created their own beautiful letters and cards to exchange with our students. We are so excited to be writing to our penpals again at Easter.
Mrs Hallett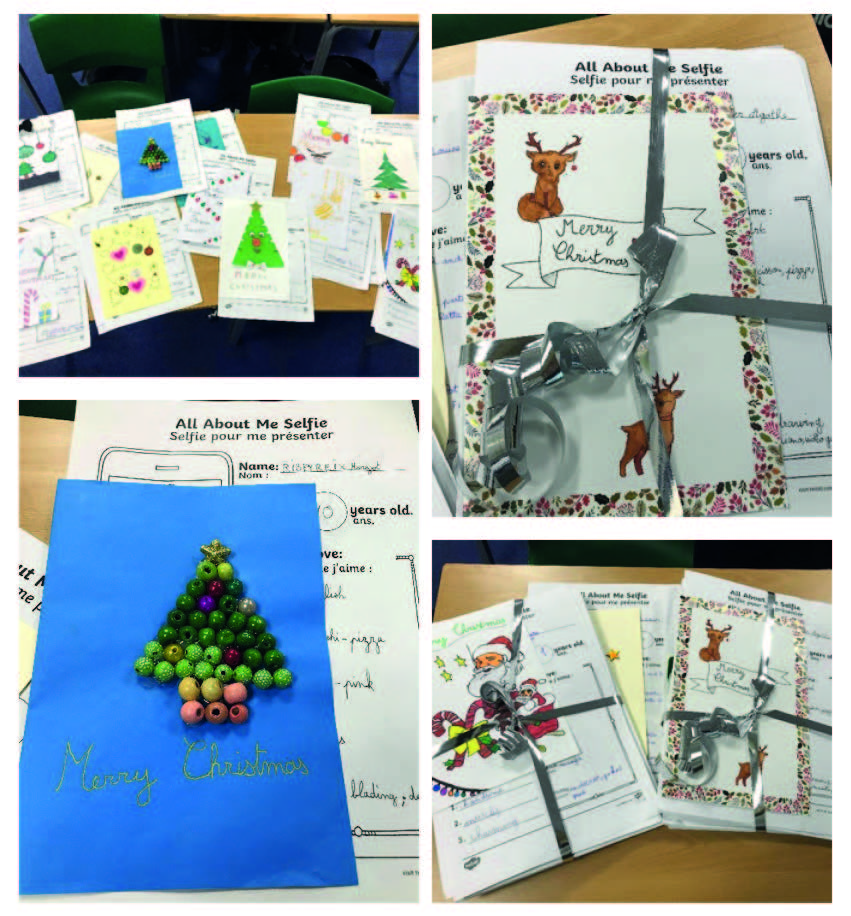 Dates for the Student Handbook!
Our whole school production is booked for October 2022.
The Henry Beaufort School Musical Production Audition dates are:
Wednesday 19th January 14:45-15:45 Year 7 and 8
Thursday 20th January 14:45-15:45 Year 9 and 10
Thank you for all of your support over the term. Our students and my colleagues have worked so hard to make sure that this term has been successful for everyone in our school community.
Thank you too to Mrs Golding for providing a holiday treat for us to bake! Please see the recipe uploaded below.
We return to school on Tuesday the 4th of January 2022.
I do hope that the Festive season is a kind and happy time for us all.
With my best wishes to you and your families,
Miss Hearle
Headteacher