Henry Beaufort collects over 3,000 items for Basics Bank
Year 11 Community students organise collection of over 3,000 items for Winchester Basics Bank
As members of the Year 11 charity community group, a handful of students helped to organise and oversee the recent non-school uniform day in aid of the Basics Bank charity. This involved several community lessons spent in preparation; the whole group pulled together to produce a variety of advertising materials, such as posters, leaflets and an informative music video. We would especially like to credit Jason Wilson and Ed Lawrence for their amazing effort in putting together a song (which you can find on YouTube here) to inform every one of the Basics Bank and what they strive to achieve. As a team, we then devised a method in which to collect a variety of different foods, assigning each tutor base a different food group to bring in.
On the day we received overwhelming support and every pupil and member of staff kindly brought in at least 1 item, many bringing in more. As a school, we managed to gather almost 3,000 items ranging from tinned fruit to toiletries. Those involved in the planning had the opportunity to personally deliver the donations, being able to greet the volunteers of the Winchester Basics Bank at Penton Place, who were of course delighted to receive them. The fundraiser was a massive triumph and the school hopes to repeat such successes in the future.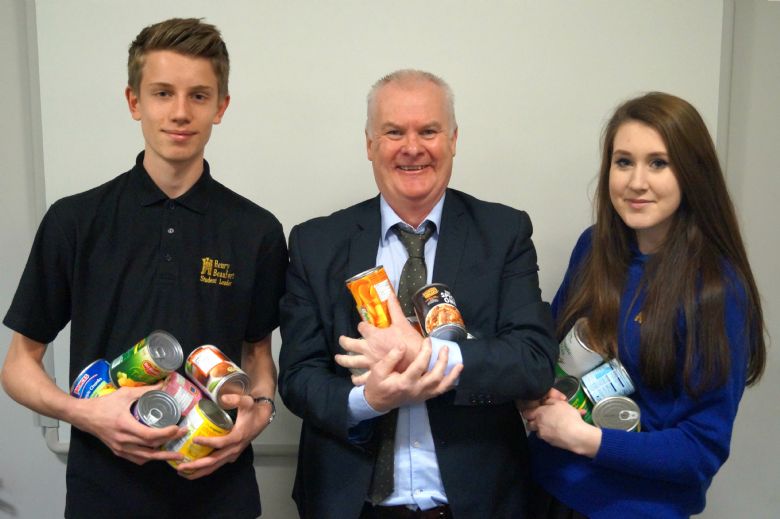 Student organisers Will White and Courtney Stroud of Year 11, with Assistant Headteacher Mr Howells
This experience has made us feel that we have all got to learn more about the Basics Bank and how it works, as despite over half of their clients only having to use them once a year, many people are still dependant on them and their excellent services. Understanding this has made us all truly value the luxuries we take for granted so frequently and made us think about those who are less fortunate.
Will White and Courtney Stroud, Year 11