Hello from Henry B! Edition 9 2021
29th March 2021
Dear Parents and Students,
As the last week of term comes into sight I am reflecting on what has been another unusual term for the school. It has been so good to get back to teaching on the school site for all of our young people. They have as always been magnificent and appreciated that being back also comes with the challenges of Covid rules and regulations. The challenges were certainly put to the test last week when we did have to respond to a positive Lateral Flow test but again I want to commend our young people for the way in which they approached this situation.
The team of staff at our testing station have asked me to pass onto you that it was a pleasure to be working with our students over the last 3 weeks. 'Polite, cooperative, calm and good humoured' were just some of the compliments that were passed back to me.
Thank you to our team of staff to for making this experience so straightforward for the students and the school. The schedule (thank you Mr Applin!) meant that there was minimal disruption to learning. A particular thanks must go to the two team leaders Mrs Williams and Mrs Goodwill. It has taken a great deal of work to organise, train and undertake the tests and I am very grateful to them and the team as a whole.
I do appreciate that the self-isolation rule is frustrating for parents and puts additional pressure on parents when students are required to self-isolate. I have included below new information from the DfE that may be of support to you if you are in this situation.
Changes to the Test and Trace support payment for parents
Parents and carers of children who have been advised to self-isolate by their education setting or by NHS Test and Trace are now able to apply for a Test and Trace Support Payment or discretionary payment of £500, if they meet the eligibility criteria. The extension of the Test and Trace Support Payment scheme, which is administered by district and unitary local authorities in England, ensures that parents receive the financial support they need if they are unable to attend work due to childcare responsibilities.
Parents and carers should apply to their local authority to receive a payment. Applications for the Test and Trace Support Payment scheme
are made via the local authority in which the parent or carer resides, not the local authority where the setting is situated, if these are different.
To be eligible applicants must meet all of the criteria that:
they are the parent or guardian of a child or young person in the same household and need to take time off work to care for them while they self-isolate. This is limited to one parent or guardian per household for the child or young person's self-isolation period
they are employed or self-employed
they cannot work from home while undertaking caring responsibilities and will lose income as a result
they meet all the other means-tested eligibility criteria for a Test and Trace Support Payment or locally determined criteria for a discretionary payment.
That their child or young person:
is aged 15 or under (or 25 or under with an Education, Health and Care Plan (EHC)) and normally attends an education or childcare setting
has been told to self-isolate by NHS Test and Trace or by their education or childcare setting because they have been identified as a close contact of someone who has tested positive for coronavirus (COVID-19)
Nurseries, schools, colleges and further education providers are required to provide a letter to all parents or carers of the children advised to self-isolate, to support their application to the Test and Trace Support Payment scheme. The letter must detail the child's name and date of self-isolation. Parents or carers will then be able to provide this letter to their local authority as evidence that their child is required to self-isolate. Please contact the school using the admin email address if you require this letter.
Once an application for a payment has been received, the local authority will be in touch with your setting to verify the details of the child provided on the application. This will include a check of the child's name, age, address and days of self-isolation. This check is to minimise the event of fraudulent claims. It may be conducted before or after a payment is made, depending on the arrangements the individual local authority has chosen to put in place. The letter you give to parents and carers should explain to them that their local authority will conduct a check with their child's setting if they apply for a payment.
Pi Cake Baking Competition
Many congratulations to the winner of our Students 'Pi Cake Baking Competition' who is
David in Year 7 and we have included a picture of his winning entry.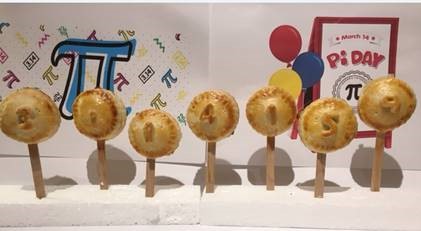 Congratulations also goes to Mrs Denman, winner of the staff Pi Cake baking competition.
I was also delighted to hear about the amazing feat of Danica in Year 9 who, with her sister took part in a virtual Toughmudder Equinox. This comprised of doing a 5 mile circuit, and when arriving back at home they then had further challenges to complete. Danica completed 25 miles and 5 challenges and together with her sister they have raised over £900.
They did this to raise money for Mind.org (Halton) in Liverpool which is the local charity supported by Loop Radio where dad is a DJ.
This is an extraordinary accomplishment and a well-deserved Headteacher Gold Award badge has been presented to Danica.
A message from Miss Brown- English Department
Congratulations go to students at The Henry Beaufort School, who entered their 100 word short stories into a nationwide competition and have been published in an anthology, called "Trapped: Thrilling Tales". The competition encouraged them to think outside the box around the theme of 'trapped' and we had a great variety of creative ideas exploring this
idea. We would like to say a huge congratulations to these talented young writers! A copy of the anthology will be available in the library.
The Summer Term
I sincerely hope that we will be able to move back to vertical tutor groups before the end of the summer term but, as we have been for the past year, we are dependent on what the guidance will be once we reach the magical date when lockdown restrictions are lifted. Having spoken to both colleagues and our young people, this is a move that they are really looking forward to achieving. We are aware that this will feel very different for students in Year 7 so we will ensure that we prepare them for this move with a few taster opportunities before September if we are allowed to do so. I know that many of our students in other years really look forward to being able to support and work with Year 7 in tutor time. We will retain a year group tutor time on the Friday of each week.
As the country is data dependent on the lifting of restrictions we are still uncertain as to what we can do or offer for our traditional enrichment week activities in July. We are looking at a number of possibilities but as yet there are no guarantees. We anticipate more guidance from the government after the Easter break. There will be no overseas residential trips this year.
Sports club will start up after Easter operating in Year group bubbles and late buses will run on Monday, Wednesday and Thursday evening so that students can attend these sporting opportunities. Miss Colebourn will send more information in a Schoolcomm this week.
The Whole School Student council will be launched after Easter to Years 7, 8 and 9. The Whole School Student Council (WSSC) plays an important role in making sure that students views and ideas are expressed, and plays a crucial role in contributing to important decisions that impact on the whole school. The WSSC represents the student body and as a school we take pride in listening and taking on board the ideas and views of the students so that a positive impact is made. Miss Colebourn is looking forward to launching this with students during tutor time when we return after Easter.
Once again can I thank you for your support of the school and my colleagues during this term. It has been a complex and difficult time for all us who are a part of The Henry Beaufort Community.
As Year 11 approach their final term with us I want to take the opportunity to commend them as a year group. Their year has involved so many twists and turns as a result of ever-changing government guidance; from September when we were informed it was to be full GCSE's, then a move to a later date for exams in June and July, then to cancelling them completely and finally to a late exam board decision to put in place assessments to inform Teacher Assessed Grades. Add to this three changes to the GCSE results date this coming summer.
They have shown remarkable resilience and we all wish that they had not been put in this position. I am so proud of the way they have dealt with every turn in their final year story.
We have the 12th of April in our sights and for me a longed for haircut!
With my best wishes to you and your families,
Miss Hearle
Headteacher