U14 Girls Football Team reach County Cup Quarter Final
The U14 Girls Football team play final two games of Hampshire County Cup
On Friday 17th October the U14 Girls Football team played against Fareham Academy in the second round of the Hampshire County Cup.
It was a great team performance and the girls played brilliantly and finished 9-0 winners.
Goal scorers included – Georgia Allen (2), Imogen Brewer, Katie Hossick, Jess Radford, Alicia Hill, Megan Goff and Aimee Akopobrie (2).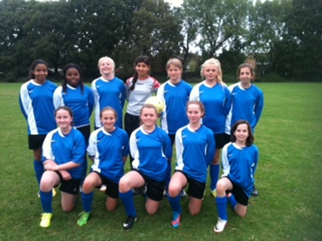 The quarter final of the competition was played against Sand Down Academy; a school from the Isle Of Wight. The girls played amazingly, they dominated possession and looked in control of the game; but the Sand Down girls scored a goal on the break and where 1-0 up at half time. Anya Athwal made some amazing saves to keep the score at 1-0; and despite a number of chances we were unable to score. The final score ended 1-0 to Sand Down. It was an excellent run in the Country Cup and the girls will be looking forward to progress even further next year.
Miss Colebourn