Henry Beaufort student crowned Orcinus Young Chef 2015
Year 10's Claudia Herbert competes in local Young Chef competition to be announced as overall winner
You may remember earlier in the term we reported a number of our young chefs had entered into a cooking competition run by catering recruiters, Orcinus. With four rounds, the competition has now finished and we are pleased to announce the winner was our very own Claudia Herbert, Year 10.
The competition, which was open to Kings' School, Perins and The Henry Beaufort School, required students to submit a recipe in order to enter, and those who were successful got the opportunity to make a range of delicious dishes for the judges, including a Mystery Box and Showstopper round. The Henry Beaufort School are pleased to say that not only did we have the most entrants from one school overall, we also had the monopoly in the final, with two out of three students from The Henry Beaufort School.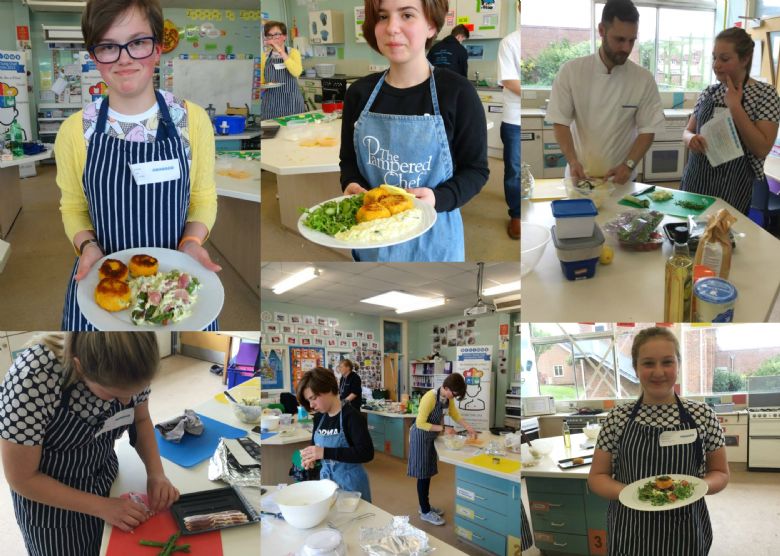 Henry Beaufort students Emma Johnstone, Lucy Mitchener and Claudia Herbert during the Mystery Box round where they prepared fishcakes with creamed leeks.
The finals, which took place on Thursday 4th June at Perins School, Alresford, were attended by Claudia Herbert and Emma Johnstone, Year 9. Both the girls created amazing desserts for their Showstoppers – Emma, a chocolate fondant with raspberry sauce and fresh raspberries, and Claudia, a 'trio of a trio' in the form of meringue cupcakes, profiteroles and mini-sponge cakes. The finals included a guest judge – Andrew Mackenzie, Executive Chef at the local Lainston House Hotel.
Emma and Claudia during the final round, with their impressive 'trio' desserts
Once the final winner had be chosen, an evening of presentations commenced with Henry Beaufort's Tommy Harris, Year 10, receiving the award for Most Innovative Dish for his Chocolate Cheesecake in which he used a stencil to portray our school logo! Kieran Tillwach also received a special mention and was presented with the award for Best Technique when producing his Hunters Chicken recipe.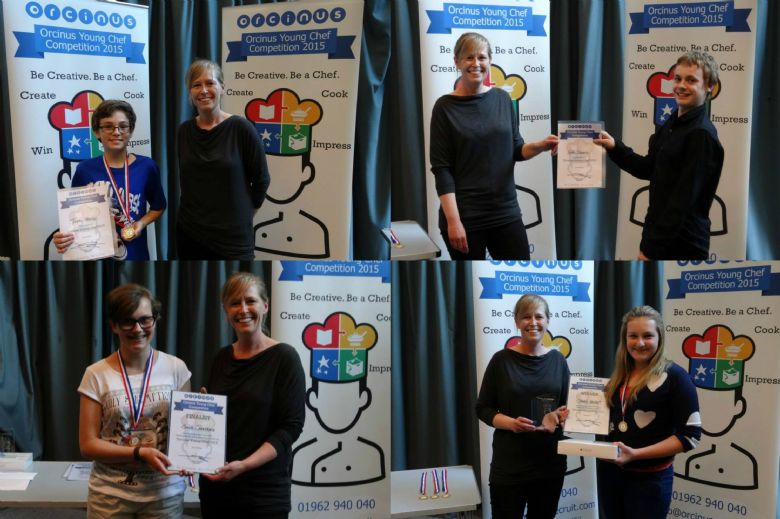 Henry Beaufort students receive their certificates from Orcinus Director, Sarah King
Congratulations to Claudia and all the other students who entered. A real range of talents and a high level of skill was shown throughout the competition.
You can find all the photographs from the competiton on the Facebook page here, or visit Orcinus' website, here.