Henry Beaufort Readers Reach County Final
On 25th February, four Henry Beaufort students from Years 8 and 9 succeeded in winning the School Library Service Literature Quiz Regional Round. The four students, Martha Lowres (Year 8), Emma James (Year 8), Hannah Arnott (Year 9) and Jack Aldridge (Year 9), were put forward by their English teachers because of their enthusiasm and knowledge of all things literary, and competed against four other schools in the local area. The quiz was made up of eight rounds of 10 questions, covering a range of topics from Shakespeare to Picture Books- it is a testament to both the students and the fantastic English department that they only got one question wrong in the challenging Shakespeare round!
The students certainly impressed the judges with their answers, and at one point one student's knowledge on a number of questions prompted a judge to ask, 'Is there a book you haven't read?!'. It was a delight to see students from a range of schools gathering to share in a love of reading. As well as being excellent participants in terms of their success, our four students were brilliantly behaved and gracious winners- fantastic representatives of Henry Beaufort.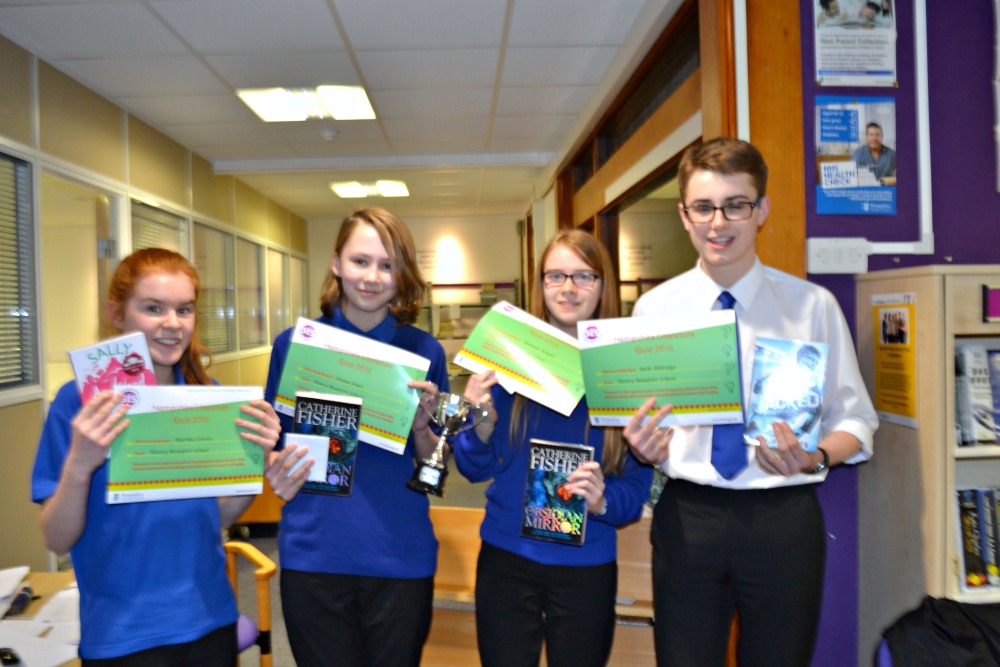 Upon winning, the students were given a trophy between them (which will stand proudly in the Learning Resource Centre!) as well as individual certificates, a book voucher, and a free book. The students really seemed to enjoy the experience and should be proud of what they have achieved. It was brilliant to see the love and celebration of learning that we seek to promote in our students. Now for the county finals taking place next month in the Winchester Discovery Centre, where our students will be competing against schools who have succeeded at regional level!