Author Chris Bradford visits Year 7
On Tuesday the 3rd of May, Chris Bradford, author of the Bodyguard and The Young Samurai series, came to visit Year 7 of The Henry Beaufort School.
The author started his talk by introducing himself and putting on a couple of videos related to body guarding and self-defence. The pupils had to undertake a mini quiz and find out who was the bodyguard in each of the pictures - the results were very surprising! Year 7 learned about different types of defence tactics and formations to protect the client, such as the closed box formation, the opened box formation, and the arrow formation. Bradford then proceeded to call for volunteers from the audience in order to test their knowledge and skills! After choosing the five pupils, he then started to walk around to meet some of the audience - the five volunteers resorted to laughter after realising how hard it was! In return, they got free posters.
The next activity was to do with his Bodyguard series. He called up two students to act out a scene from his book while he narrated. All the students were eager to watch and hear. Towards the end of the chapter, there was a gun scene - Chris had brought a mini water pistol to scare the pupils as they thought it was real and screamed when they got hit by the water! Again, the volunteers received a free poster.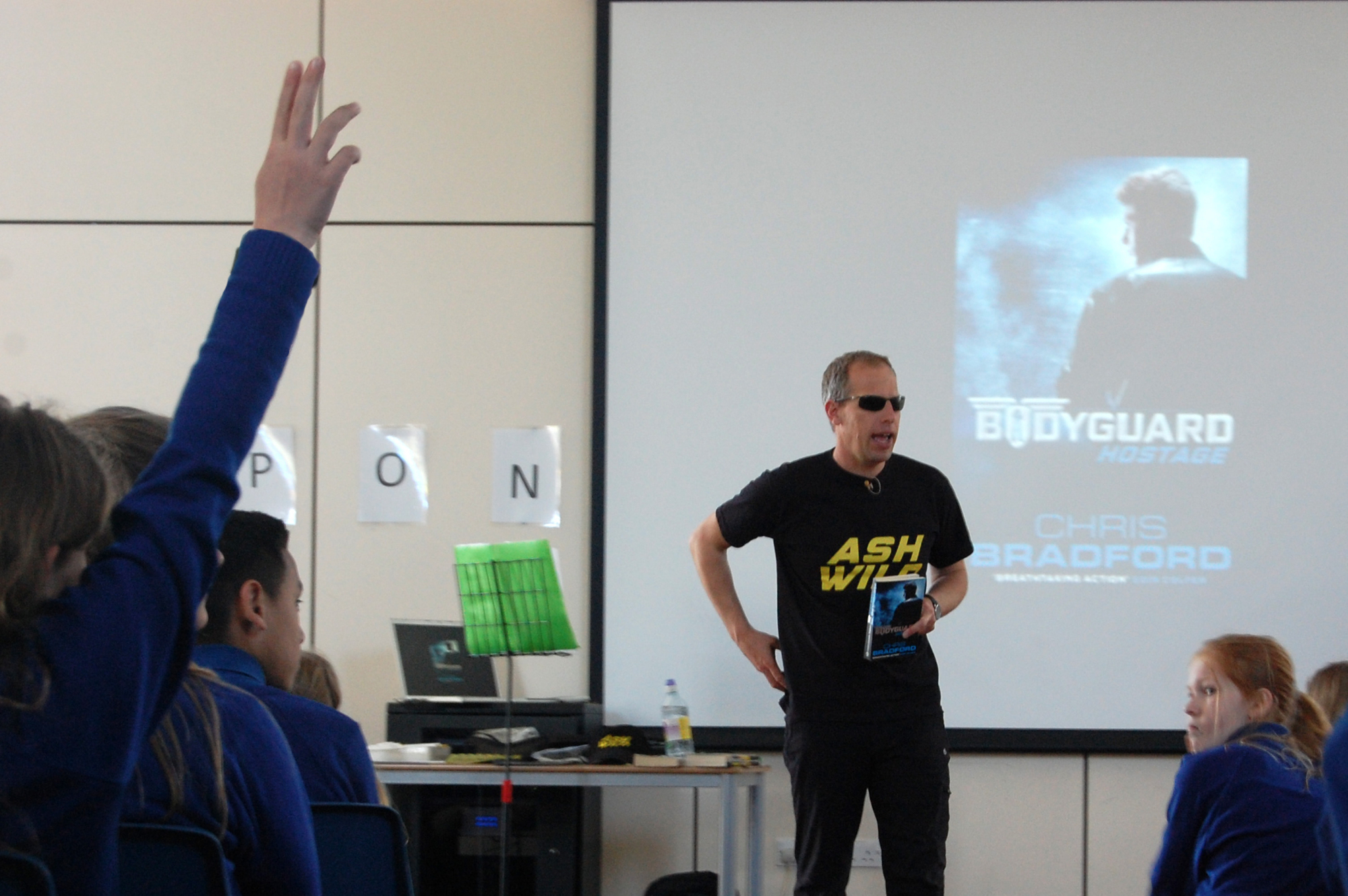 The third activity was on how to protect yourself or your client. The author called up a pupil to demonstrate a certain move. The pupil had to act like a crazy, obsessed fan that started to become a threat to his client. Chris Bradford then proceeded to do a mini push that tripped up the pupil gently onto the mat - this was only 20% of the actual force!
One of the last activities was to do with security cameras, coding and hidden cameras. The author reported that he had actually hidden a secret camera and got the students to try and identify where it was placed. No one could find it, and it turned out to be in a Coke can! He then told his audience about secret 'coding' related to threats and danger.
At the end of his visit, Chris did a mini book and poster signing. He answered many questions and then asked if any of the students wanted to purchase his books - 3/4 of the year stood up and made a queue to order books!
Overall, the students of Year 7 thoroughly enjoyed the author's lively visit and his talk! They all left with a smile on their faces.
By Astha Subba, Year 7