HIU gets a special visitor
On Wednesday 7th December, the HI unit was treated to a very special visit from Inca, a Hearing Dog for Deaf People, and her owner, Lisa Baldock. The signing choir and signing club were also invited to the event because the students are studying a Level One qualification in British Sign Language and were eager to learn more about how it helps deaf people.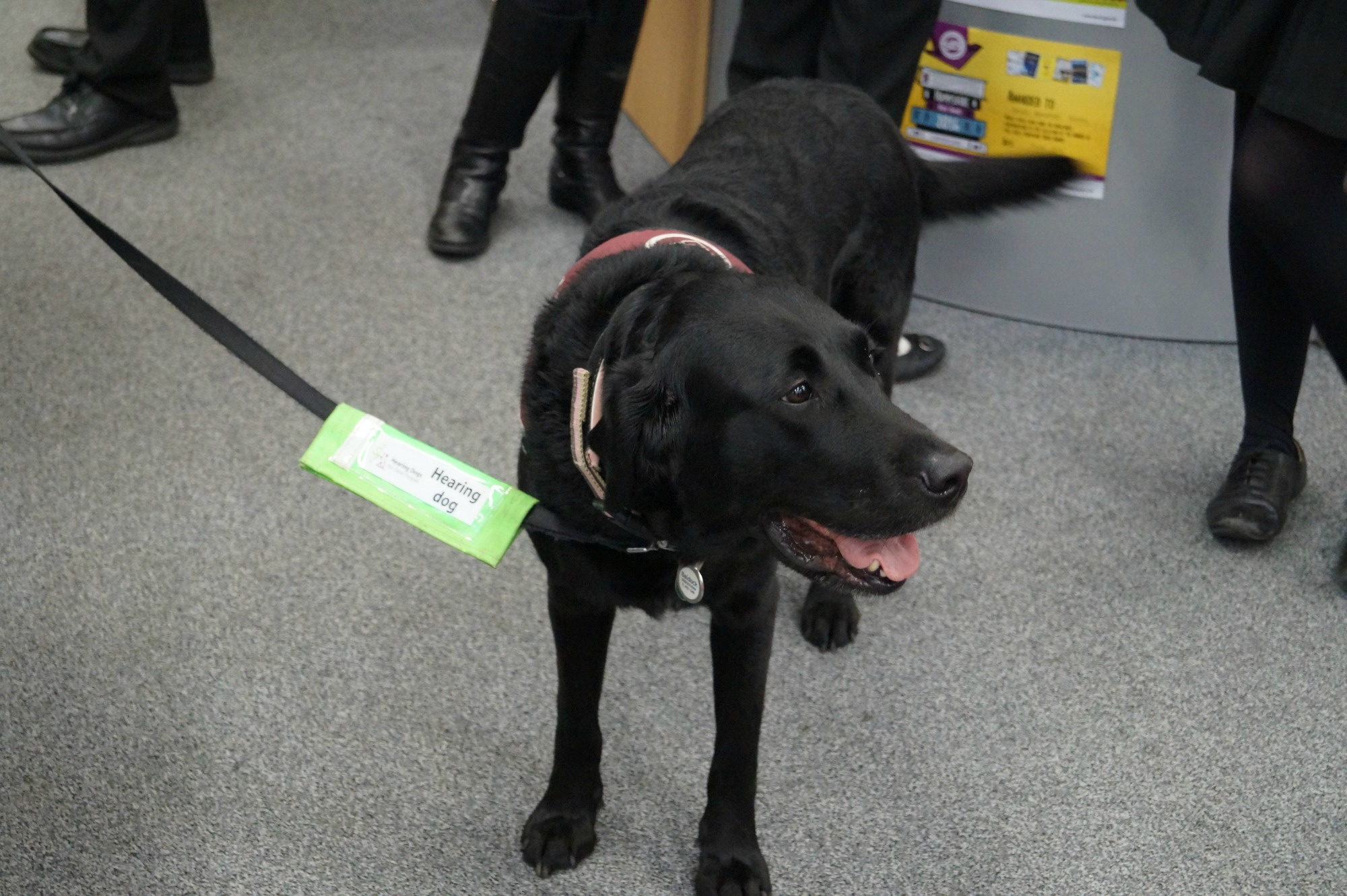 What is a Hearing Dog for Deaf People?
Lisa explained to the audience that a hearing dog is specially trained in alerting a deaf owner to sounds in the environment. These sounds include fire alarm, doorbells, and telephones ringing. Inca also likes to wake Lisa up in the mornings! The dog would nudge the owner to guide them to the actual sound. The dog also will know to lie down if a dangerous situation arises.
Where can Hearing Dogs for Deaf People go?
Hearing Dogs for Deaf people can go to places that ordinary pet dogs are not normally allowed access to. They can accompany the owner in shops, banks, supermarkets, hospitals and even in workplaces! They have to wear a special burgundy coat so other people can see that they are a working dog, and allow them onto premises. People will need to ask to stroke the dog first if they are in the 'working mode'. They can also use public transport such as trains and buses. Lisa told the audience that Inca often receives a VIP treatment and get to travel in first class sometimes! They also travelled on a plane together to Glasgow recently, so Inca is able to go almost everywhere with Lisa. There are only two places that Hearing Dogs for Deaf people are not allowed access to, and these are operating theatres, and food preparation areas, such as kitchens in restaurants. This is due to hygiene as the risk of infection is high.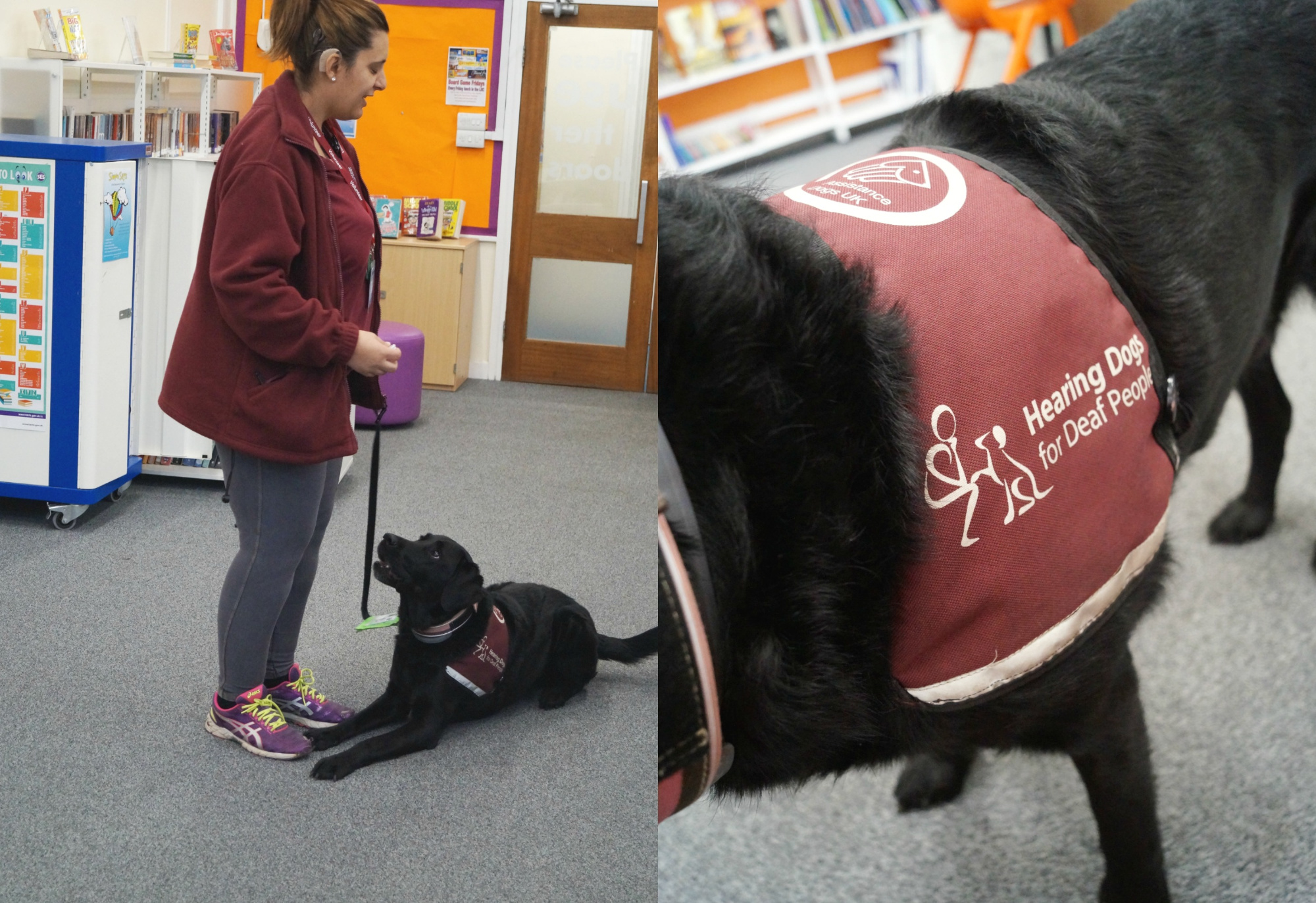 What else can a Hearing Dog for Deaf People do?
The dog often gives their owner confidence by being at its side all the time. Deaf people can often feel isolated in society because they do not know what is going on, and feel they are missing out on information. Some people may feel afraid to approach a deaf people fearing they won't be understood. However a hearing dog helps to break down these barriers. Lisa stated how strangers often approach her and talk about the dog so it helps her to feel connected and happy.
How can I get a Hearing Dog?
Only deaf people can have a hearing dog. They have to go through lots of assessments to be matched with a right hearing dog. The dogs have to go through rigorous training before they can be placed with a deaf owner. Lisa explained how she went through a long process before she was placed with Inca. Inca and Lisa have been together for four years. It is a very expensive process. Deaf children can have a hearing dog too if their parents apply to the charity.
Hearing Dog for Deaf People charity
The charity aim to raise money to help pay for the dogs training, so people from all over the UK does lots of special events such as selling bric and brac on stalls, sign songs at shopping centre (like our own Emma Wright, a CSA in the HIU) or collect stamps. The HIU will begin to collect used stamps for the charity. If you have any used stamps, please bring them in! Afterwards the audience was very excited and were lucky enough to stroke Inca and gave lots of positive feedback such as 'I didn't know they could help a deaf person so much' Etty, Yr 8, and 'I feel proud about Hearing Dogs because of what they can do such as hearing the alarm, I would want one for myself!' Alisha, Yr 9 'I found it really interesting and I loved stroking the dog!' Anna, Yr 7.
Lisa Baldock told the unit, 'Me and Inca really enjoyed our visit to Henry Beaufort. The children were really interested in meeting us and learning about what Hearing Dogs do. Thank you for inviting us'.
Please feel free to visit the HIU to see the display about Hearing Dogs for Deaf People by the students or to enquire further about BSL Level One qualifications.