PGL Netball Weekend 2018
On Friday 16thMarch 48 girls from Years 7-10 headed to the PGL centre in Liddington to take part in the PGL netball weekend. In total we had 6 teams entered across the age groups.
As we arrived on the Friday lunch time and settled into our accommodation. We then had an intensive netball coaching session run by resident netball expert Miss Elsdon. The girls were great and already excited for the tournament to begin on the Saturday. Friday night was the first night of evening activities where the girls got to take part in a variety of activities and begin to suss out their opposition!
The girls on the Saturday would either have a morning of netball games followed by an afternoon of activities or vice versa. The activities were located all around the PGL Liddington site and the students, once fitted with their harness were free to explore and 'drop in' to the different activities. This activities included, giant swing, rock climbing, abseiling and also a crazy mixture of trampolining and basketball.
The weekend as always, was superbly organised. The PGL staff put on great activities and England Netball ran and umpired the tournaments.
Saturday was excellent and the girls played so well despite the freezing conditions and occasional snow flurries! Saturday night meant disco fun and the girls were off ready to make some shapes. But it was to be an early night as the girls were ready for more competitive matches on Sunday and with the hope of making the semi-finals.
However, Sunday morning, we awoke to a good covering of snow! The tournament had to be cut short – which was a real shame as the girls were doing so well and were very positive about the Sunday, but in the end we had to settle with a snow ball fight and a snowman building competition.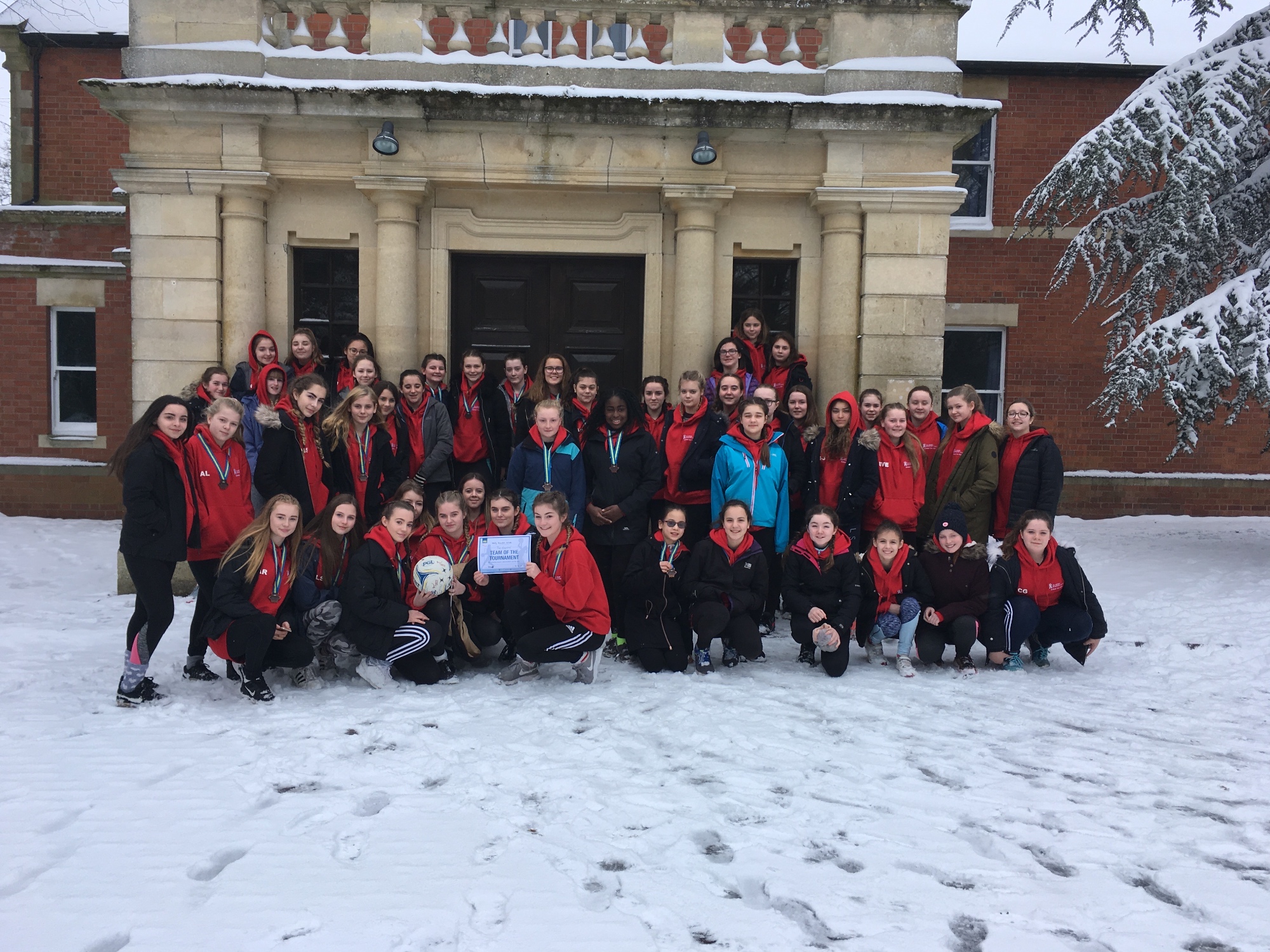 We did attend the presentation where both the Year 7 and Year 9 A teams were presented with bronze medals as both teams were in 3rdplace at the end of play on Saturday.
However, what was fantastic and well deserved was that The Henry Beaufort School were awarded 'Team of the Tournament'. Each umpire had a vote to select a team or school that showed a host of things and included fair play and respect to name a few. The girls were incredible all weekend, polite, well-mannered and always positive. What was also lovely was their encouragement for each other, they were always supporting each other and cheering on the different age group teams.
Well done – and a big thank you to Miss Bean for organising it all.